APTA Abroad:
Throughout the Trap Shooting Season, many APTA shooters travel all over Canada and the U.S. to represent the Atlantic Provinces at many of the largest organized Trap Shoots.
Previous Years
2018
2017
2016
2015
2014
2013
The 2018 ATA Registered trapshooting season is underway. Here are some of the shoots our shooters will be attending. Good luck shooters. Stay tuned for updates!
2018 Spring Grand
February 19-25, 2018
Tucson Trap and Skeet Club, Tucson, Arizona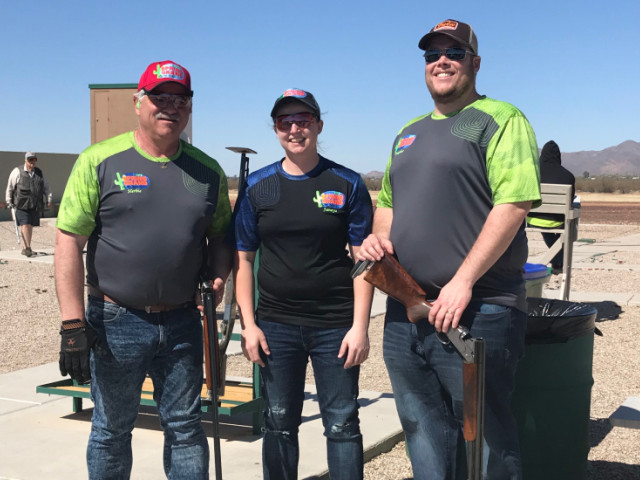 (left to right: Herbie Nickerson, Janaya Nickerson and Doug Blades)
Story by: Doug Blades
This year the Atlantic Provinces was represented by 3 competitors, all from Highland Gun Club in Yarmouth Co., NS. Herbie Nickerson and his daughter Janaya, as well as Douglas Blades, attended.
Tucson Trap & Skeet Club once again hosted an amazing tournament, accommodating as many as 829 shooters in the Championship Singles event without a hitch. Weather during the tournament was mostly sunny with mild temps ranging from 10 to 18 degrees Celsius. Afternoons generally saw increased winds.
Janaya shot a new personal best 97/100 in the afternoon portion of Event 10 Singles. Also a highlight was Herbie's 98/100 in the Event 7 Singles which had him tied for class C winner. The tie was settled by carry-over to the next singles event and saw Herbie become runner-up.
Event 15 Singles brought Douglas the chance to shoot along side Kay Ohye and Michael Blaisdell. Blades managed to tie Blaisdell with 98's, while Kay Ohye posted a 97.
The rest of the tournament was highly enjoyable, a great break from winter in Nova Scotia. From the targets to the people, everything about this tournament is top notch.
Editor's note: Doug Blades and his family enjoyed a few days of R and R after the shoot. Photos courtesy of Doug Blades. Click here to see some photos.
2018 Southern Grand
March 12-18, 2018
Silver Dollar
Odessa, Florida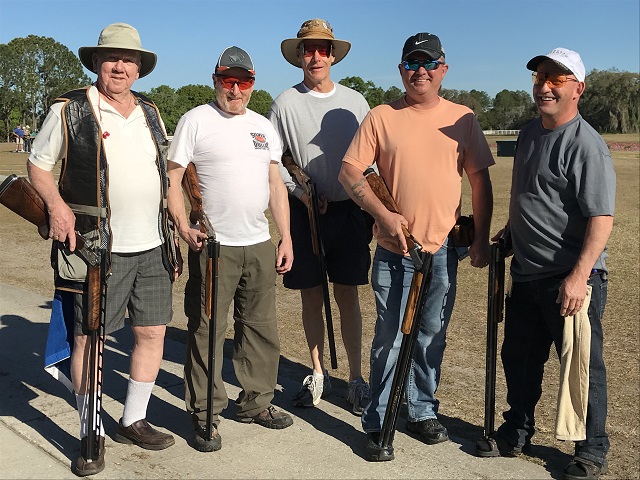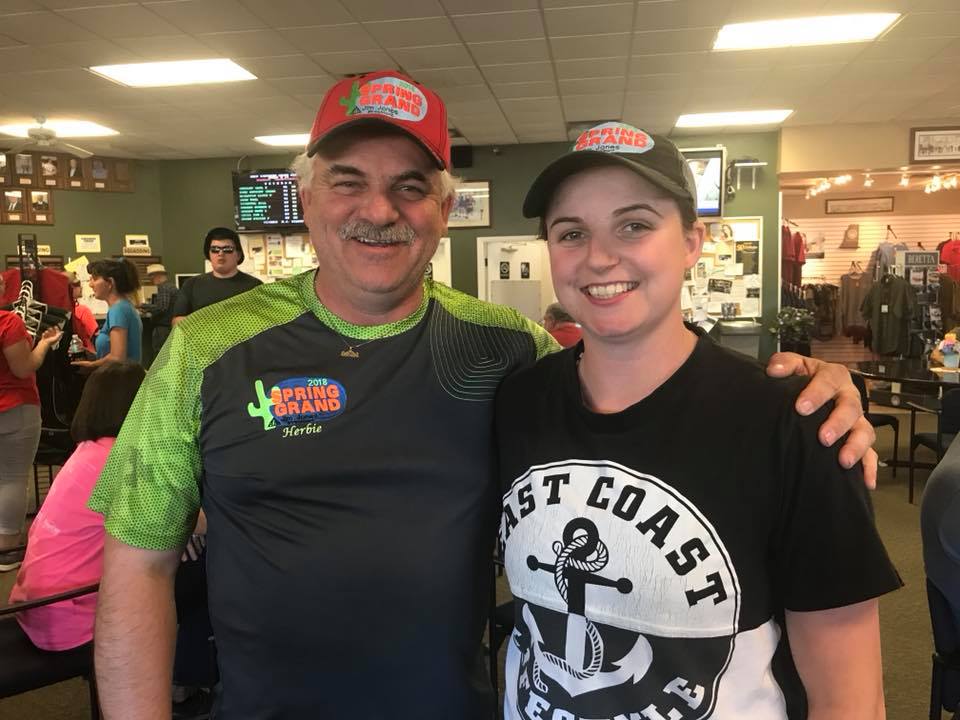 (left to right: Paul Bailey, Peter Tucker, Jim Price, Monty Petipas, John Tucker, Herbie Nickerson and Janaya Nickerson)
Story by: Andrea Bassan
NL shooters Peter Tucker, John Tucker, Monty Petipas and Paul Bailey (aka Old Man Bailey) once again made their annual trip to Florida this March for the Southern Grand and the Silver Dollar Shooter's Club in Odessa, Florida. The boys have been making this trip annually and have become good friends with Maryland shooter Jim Price who they met during their first trip to the shoot. The boys still make it a point to squad together for the Singles events. FYI - Jim is also considered an official Newfoundlander now, after having competed in the 2013 Atlantic Provinces Provincial Shoot at the St. John's Rod and Gun Club – the home club for the NL shooters.
Herbie and Janaya Nickerson just back from the Spring Grand in Arizona also decide to attend the Southern Grand and join the NL boys for the tournament. Nova Scotia shooter Barry Turner is also in attendance as he competes regularly in the ATA Satellite Grand circuit.
Despite not having shoot any trap since early December the NL boys made short work of getting back into the swing of things. The NS Nickerson duo are in top form from their Spring Grand shooting and get right back at it. Atlantic Province shooter highlights include:
John Tucker shoots a 91 in Monday's Preliminary Handicap earning 3rd place honours
Peter Tucker wins D Class in the Harlan Campbell Jr. Singles with a 97
Jim Price claims 7th place with a 92 in Tuesday's preliminary Handicap
Janaya Nickerson claims Lady 1 Runner up in the Caeser Guerini Handicap with a 94
Peter Tucker wins the Handicap Champion with the lone 99
High All Around Winners include Peter and Janaya – Class D Winner and Runner up
AP Shooters earn yardage: Herbie ½ yard, Janaya 1 yard and Peter 1 ½ yards
Perhaps the biggest news for our group of shooters is Peter Tucker winning the 2018 Southern Grand Handicap Championship with a 99/100. Peter won outright over a field of 495 shooters. Fellow Canadian and Quebec shooter Jake Levin placed 2nd with 97/100. A great showing for Canadians. Peter's score was a personal best Handicap score for him which also earned him 1 ½ yards and a promotional to the 21 ½ yard line. This win is also Peter's first handicap punch and what a way to accomplish that – winning one of the prestigious Handicap Championship in the ATA. Congratulations Peter.
And who doesn't like to see their name on the leader board? Congratulations everyone.
2018 Florida State Shoot
March 20 - 25, 2018
Silver Dollar
Odessa, Florida
Monty Petipas decided to take full advantage of his extended stay in Florida and enter the Florida State Shoot. Although Monty admits to being like a fish out of the water without having Old Man Bailey and the 2 Tuckers at his side, he managed to carry on and represent the Atlantic Provinces respectively.
Monty shot well throughout the tournament and landed himself in a number of ties and carryovers for Non Resident Class Titles. His scores also put him in contention for the Singles and Doubles High Over All and High All Around Class Titles. Although finishing just shy of the winning Class HAA and HOA scores, Monty did win 2 titles at this year's shoot. Well done Monty.
Event # 5: Wednesday Preliminary Handicap - Non Resident 3rd Place
Event # 6: Wednesday Preliminary Doubles - Non Resident Class D Winner
2018 Southwestern Grand
April 3-8, 2018
National Shooting Complex
San Antonio, TX
2018 Great Lakes Grand
May 22-27, 2018
MTA Homegrounds
Mason, MI
2018 Canadian Trapshooting Championships
June 27-July 1, 2018
Brandon Gun Club
Brandon, Manitoba
2018 Quebec Provincial Trapshooting Championships
August 17-19, 2018
L'Acadie Gun Club
Saint-Jean-sur-Richelieu, Quebec